Camp Learned A Lot – Day 4
Day 4 of Camp Learned A Lot contains just as much fun and surprises as the other days!  As always, we began with our Morning Meeting at the campfire.  I call students to the carpet during Camp Learned A Lot week by playing camp bugles.  Then, we recite our Camp Motto.  This is just a fun chant we recite each day at the beginning and end of camp.


The motto I use:
We are Camp Learned A Lot
The Mighty, Mighty First Graders!  
Then, we went around the campfire and shared our favorite subject from this school year.  
I read the book Froggy Goes to Camp, and we discussed how Froggy changes throughout the story.  The students love this book because we do a whole week on the Froggy series earlier in the school year.  After reading the book, I explain that at camp you make lots of memories and always want to remember your friends.  Today is Craft Day!  We will be making popsicle stick frames!  I have done these several different ways – leaving the popsicle sticks plain, painting them with green and brown watercolor paints to resemble a cabin, and also letting the students paint with any watercolor paints they choose.
I worked with students in small groups to make a popsicle stick frame and glue it together with Elmer Glue Bottles.  After they dried, I called students back to write Camp at the top and the year at the bottom.  Then, my assistant and I worked to glue the pictures to the frame.  The frames weren't perfect but it's kid art! That's part of the charm.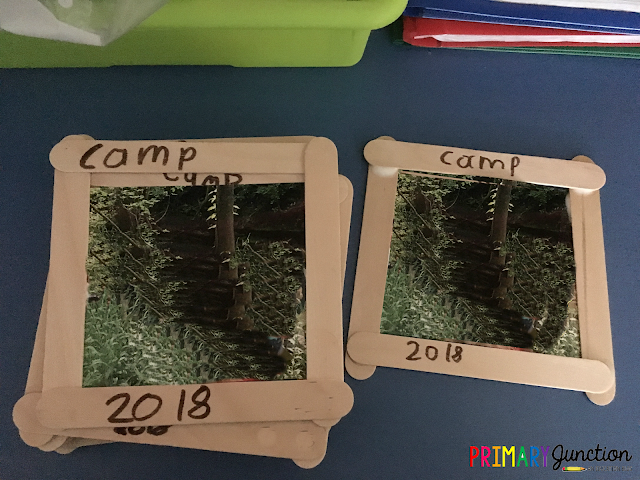 (I have edited out the class picture.)
After the popsicle stick frames were made, we came back to the campfire for another camp poem/song! Today's song was A Camping We Will Go!  After we learned this song and the motions, students added the poem to their fluency folder.
We also completed another camping listening to/following instructions activity from A Burst of First. Students also played a 100-chart math game with a bear theme and completed a camping survey with their classmates and answered questions about the data.  Of course, Camp Learned A Lot would not be complete without mail call and a campfire story at the end of the day!
Stay tuned tomorrow the final day of Camp Learned A Lot.  To read about the previous days, please click below:
This post may contain Amazon affiliate links. I earn a small commission each time someone makes a purchase through one of my affiliate links, which helps to support the website. As always, I only recommend products that I love.