Camp Learned A Lot – Day 3
Camp Learned A Lot continued today with a focus on STEM for Day 3!
Once again, we began with our Morning Meeting at the campfire.  I call students to the carpet during Camp Learned A Lot week by playing camp trumpets.  Then, we recited our Camp Motto.  This is just a fun chant we recite each day at the beginning and end of camp.
The motto I use:
We are Camp Learned A Lot
The Mighty, Mighty First Graders!
Then, we went around the campfire and shared our favorite special class from this school year.
Afterward, I read Scaredy Squirrel Goes Camping.  We loved making predictions throughout the story, discussing how Scaredy really didn't need to worry about certain things and laughing throughout the whole story!
Today's big Camp Learned A Lot event was a tent STEM activity!  For this activity, I gave each student a Zip-Loc baggie with 9 toothpicks, 6 small marshmallows, and a piece of felt/cloth.  Students had to use the materials to make a tent.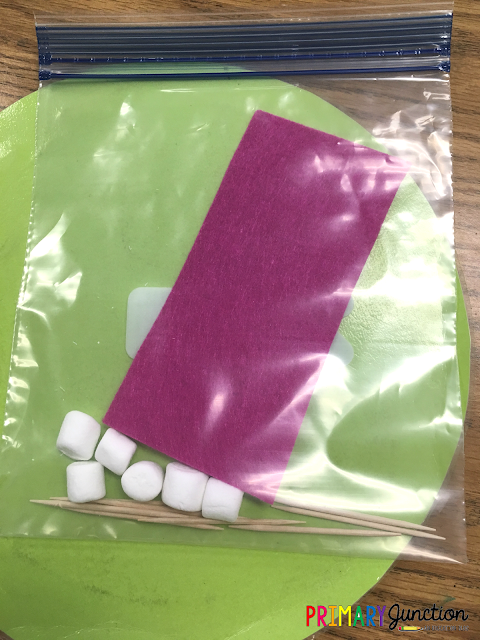 Here is one step-by-step example of how to build a tent.  For a STEM activity, I would leave this up to the students and have them figure out their own way to make a tent.
After students made a tent, they completed a how-to writing on how to make a tent in their camp journal.
After this activity, we sat around the campfire for another camp poem/song.  Today's song was my favorite, The Littlest Worm!  You can check it out here:
Today we also completed our first listening activity.  Students receive a sheet with a camping image on it and must listen to my instructions (that I only repeat 2x) to know how to color, decorate, cut, and glue.  I love these activities from
A Burst of First
!
We also made Smores and wrote a how-to writing about them and had mail call where they received mail from home!
It was another wonderful day of Camp Learned A Lot! Come back tomorrow to hear about Day 4!
This post may contain Amazon affiliate links. I earn a small commission each time someone makes a purchase through one of my affiliate links, which helps to support the website. As always, I only recommend products that I love.